The Djinn Ring of Ifrit Narshad
This talismanic ring is one of the few incredible ifrit jinn talismans that we offer. The ring is connected with the powerful fire ifrit Narshad who was summoned from the ancient magi of the ancient Persian empire. It comes with a beautiful handmade filigree talismanic box.
Narshad is a mighty ruler and lord of a small but very powerful jinn tribe of fire worshipers. His abilities are vast, he can help for attracting luck and success in one's life, he removes blockages in any sphere in the physical and spiritual realm. Under his protection, no harm can befall on you, and he can remove any obstacles and negativity. He assists in the realization and achievement of all goals, and he can burn every obstacle in your life or evil that befalls you.
Click on the pictures above to see the pictures in full-size*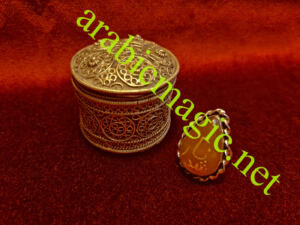 Please note that this is an antique talisman. Most of our talismans and amulets in this category are from before 1940. Some of the talismans are silver, others are silver-plated or gilded. All are handmade and unique. The natural traces of time are seen on them. Many of them, we restored, reconstructed, and strengthened with the help of additional magical rituals to increase their effectiveness and power. Others are presented in their original form. We do NOT use methods for artificial aging and deterioration of our talismans!
SOLD
Unique piece, which is not going to be replicated.
The magical talismans and amulets that we offer are not commercial products but are entirely handmade charged with the correct Arabic rituals under strict control for performing all necessary requirements and favorable time for their creation. To order, please use the email below: [email protected]