Celestial Djinn Ring/ Abdul Al-Rahman Khodam of Surah Al-Ikhlas
We present to your attention a unique one of a kind talismanic ring connected with the pious and celestial djinn Abdul Al-Rahman. He is known for having the ability to open every door and to remove any obstacle in one's life. He is mentioned in the occult Arabic manuscripts as a servant (khodam) of surah Al-Ikhlas from the Holy Quran, having given him a rank close to that of a celestial angel.
By wearing this magical djinn ring its power will help you to attract any good and to make always the right choices in your life, to develop your spiritual power, to enlighten you with wisdom and insight. Also granting spiritual sight and material sustenance. Abdul Al-Rahman is a very powerful and strong guardian and keeps safe from any calamity, danger, enemies, evil and negative energies or spirits. He will be a powerful all by your side.
Click on the pictures above to see the pictures in full-size*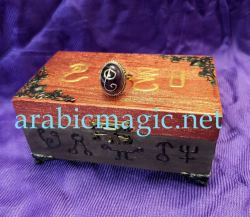 Sold
Unique piece, which is not going to be replicated.
The magical talismans and amulets that we offer are not commercial products but are entirely handmade charged with the correct Arabic rituals under strict control for performing all necessary requirements and favorable time for their creation. To order, please use the email below: [email protected]