The Magical Ring of the Marid Djinn Jalal Al-Hakim
There are many sages of the djinn. These sages can educate their students in the craft of magic. The information of how to contact them is strictly protected and kept hidden in the Arabic magical tradition. We present to your attention an unique item – the talisman of the marid djinn Jalal Al-Hakim. He is a powerful and extremely wise djinn with exceptional powers. Jalal Al-Hakim is associated with life mysteries and powerful magic. His form is of a giant dragon snake, and he can help you to enhance your hidden and physic abilities. He grant personal insight, high intuition and will assist you to achieve your goals and desires. He can influence peoples minds so they will see you as a powerful and authoritative figure, they will follow you and will listen to you. He can influence events so that you get the desired outcome. He can attract love, prestige, acceptance, financial well-being, wisdom. He possess tremendous knowledge and he is a great teacher, spiritual guide and a personal protector.
Click on the pictures above to see the pictures in full-size*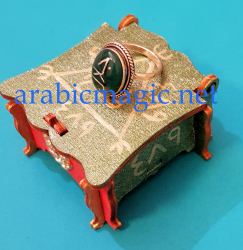 SOLD
Unique piece, which is not going to be replicated.
The magical talismans and amulets that we offer are not commercial products but are entirely handmade charged with the correct Arabic rituals under strict control for performing all necessary requirements and favorable time for their creation. To order, please use the email below: [email protected]