Astral Magic Planetary Talismans – Set of All Seven Planets Talismans
In the Arabic magical tradition, planetary talismans hold immense significance and power. These talismans are associated with the seven heavenly bodies – the planets that have long been revered for their influence and symbolism in various cultures. The science of talismans, known as "Ilm al-Tilsamat" in Arabic, has been celebrated as a noble branch in the Islamic occult lore. The aim of creating astrological talismans is to combine celestial powers with certain earthly bodies, thereby producing a powerful force that can bring about extraordinary effects in the earthly world. These talismans are typically engraved on stones, wood, metals, or other carriers that correspond to the respective planet they are associated with. The process of creating celestial talismans is not only intricate but also requires auspicious astrological timing.
We present to you the complete set of astrological Arabic magic talismans of all the Seven Planets. The talismans are precisely crafted of colored clay in the corresponding astrological times and charged with the celestial invocations of each planet to bestow its beneficial energy to the one who uses them or wears them.
Planetary Talisman of Jupiter
Jupiter is the planet of luck, finances and expansion. It is associated with stability and growth. The talisman helps its owner to attract luck and prosperity in a personal aspect or work. It also helps to avoid bankruptcy. If placed in the workplace or shop it helps to attract customers and visitors. It protects the home from negative forces and promotes a good atmosphere in it.
Planetary Talisman of Moon
The Moon is that celestial body that exerts the greatest influence on all forms of life and is identified with the feminine. Its talisman is related to intuition and protects its owner from aggression and physical dangers. Also for protection from evil forces and their elimination.
Planetary Talisman of Mercury
Mercury is associated with mental activity and travel. Its talisman strengthens memory and the ability to memorize quickly, and bestows success in studies and everything related to science. The talisman is especially suitable for students or those who earn their living by mental activity, writing, and poetry.
Planetary Talisman of Venus
Planet Venus symbolizes love, friendship, harmony and beauty and is associated with skill in the fine arts. The talisman is designed to attract love to its owner and endow him with the love of others. Wearing it increases personal magnetism and sexual radiance so that one is liked in the eyes of others.
Planetary Talisman of Sun
The Sun is called the king of all the planets. Its talisman is designed to improve social status, to attract wealth, happiness, and career success. Also for attracting honor and prestige among others, to bring respect and fame.
Planetary Talisman of Mars
Mars is the planet of active energy. It helps to fight against misfortunes and fears, as well as to protect against attacks and accidents. Suitable for all people who hold positions related to law enforcement, the military, or those involved in heavy sports and physical activities.
Planetary Talisman of Saturn
Saturn is the planet known as the Teacher and Judge, responsible for discipline and responsibilities. It gives profound wisdom and stability.
Click on the pictures above to see the pictures in full-size*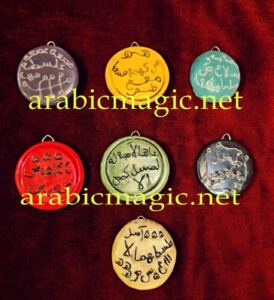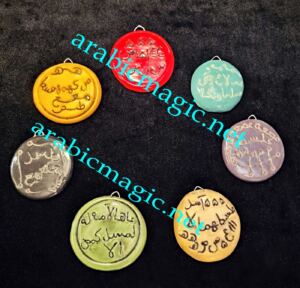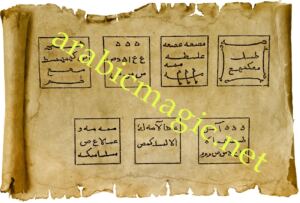 Price: 500 Euro
The magical talismans and amulets that we offer are not commercial products but are entirely handmade charged with the correct Arabic rituals under strict control for performing all necessary requirements and favorable time for their creation. To order, please use the email below: [email protected]