Arabic Talisman for Money and Unlimited Success
This talisman helps you to elevate your life to a higher level. In love or in business, or to attract the people who can bring you the happiness you seek. This powerful talisman is a piece of magical jewelry that connects you with the right people and acts like a magnet so they may notice you. Its powers help for:
-Having new ideas and new ways to make money.
-Connects with the people who can be useful to you.
-Opens your mind to possibilities that were beyond your reach.
-Gives majesty, confidence, and respect that will impress all people.
-Attracts success and abundance.
Click on the pictures above to see the pictures in full-size*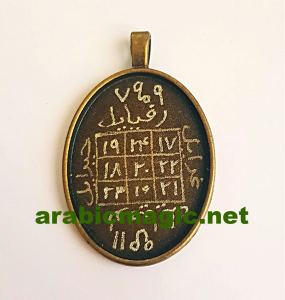 SOLD
The magical talismans and amulets that we offer are not commercial products but are entirely handmade charged with the correct Arabic rituals under strict control for performing all necessary requirements and favorable time for their creation. Each talisman is tailor made for each client. To order, please use the email below: [email protected]