Arabic Talisman of Money/ Attracting prosperity and Financial Well-Being
The beautiful Green Agate pendant talisman is engraved with Quranic verses and charged by a strong ritual for attracting money, prosperity and financial wellbeing to its owner. It can be worn as a pendant on the neck or kept in a pocket or a small pouch close to you. This extremely powerful talisman will help you in all financial affairs, it will attract customers to your business, it will provide increasement of the profits and will bring luck to your work and all business deals.
It is used for:
Attract Well-Being: Imbibed with positive energy, this amulet serves as a symbol of promoting well-being.
Prosperity and Abundance: The powerful Arabic Amulet pendant is charged with Quranic prayers and acting as a conduit to draw financial success to its owner.
Luck and Success: Beside material benefits, the Arabic Talisman is charged to bring luck and success, making it a perfect charm for those who are setting out on new ventures or seeking improvements in their endeavors.
It comes with a special handmade leather pouch for storing it.
Click on the pictures above to see the pictures in full-size*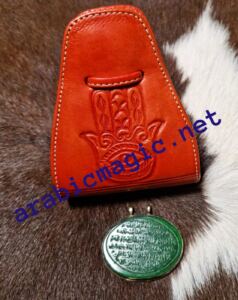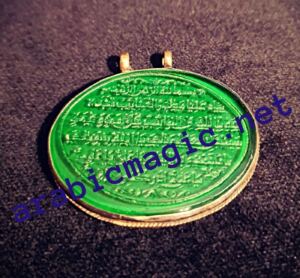 SOLD
The magical talismans and amulets that we offer are not commercial products but are entirely handmade charged with the correct Arabic rituals under strict control for performing all necessary requirements and favorable time for their creation. To order, please use the email below: [email protected]