Ayat Al-Kursi Carnelian Necklace
The carnelian is one of the earliest favored gems. All over the world, ancient peoples used it for jewelry, seals, and talismans and the stone became associated with spirituality and mysticism. Carnelian symbolism also touches on health and luck. The Arab peoples consider the carnelian one of the stones of kings. The stone's rich, warm color often links it to projective, proactive energies associated with lions and fire. Traditionally, the stone lends courage to those in need and helps with public speaking. It would certainly benefit a king to speak like a lion, boldly roaring, and fiery passion. The Prophet Mohammed was said to have worn a carnelian seal set in silver on the little finger of his right hand.
This magical carnelian pendant is inscribed with part from Ayat Al-Kursi which is often regarded as the chief ayats of The Quran that grants spiritual and physical protection. It will protect you from all harm, evil eye, magic, negative energies, malefic jinn and will bring luck, prosperity, and strength to you.
Click on the pictures above to see the pictures in full-size*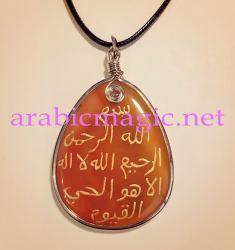 SOLD
The magical talismans and amulets that we offer are not commercial products but are entirely handmade charged with the correct Arabic rituals under strict control for performing all necessary requirements and favorable time for their creation. To order, please use the email below: [email protected]