Arabic Magical Ring for Spiritual Strength, Good Charisma and Luck
Immerse yourself in the world of kings, shamans, and warriors with this Arabic Magical Ring that fosters spiritual strength, good charisma, and luck.
Crafted out of Turquoise, a stone renowned for its enchanting blue-green hue, this ring encapsulates the mystery and allure of ancient Egypt where it made its first appearance around 6000 BCE. Known as a sacred stone across various cultures, Turquoise has been recognized for its potent healing properties, helping to usher energies of love, protection, and spiritual prowess.
This ring is not just a piece of jewelry, it's a talisman that garners protection against all evil and attracts positive energy and good fortune.

Enhance your appeal and charisma wearing this exquisite ring, which also serves as a charm for attracting love.
Empower your spiritual growth and strength with this magical ring whose aura resonates with the highest vibrations.
Inscribed with a magical square, the ring boasts a unique and powerful design that sets it apart in style and spiritual significance.
Indulge in the aura of luck, protection and improved charisma, a gift to yourself or a loved one that echoes timeless beauty and spiritual power.
Click on the pictures above to see the pictures in full-size*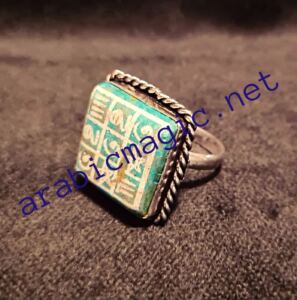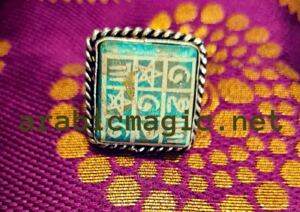 Price: 300 Euro
The magical talismans and amulets that we offer are not commercial products but are entirely handmade charged with the correct Arabic rituals under strict control for performing all necessary requirements and favorable time for their creation. Each talisman is tailor made for each client. To order, please use the email below: [email protected]