The Talismanic Ring of the Underworld Jinn Malik Al-Nasur Iblis' Minister
Malik Al-Nasur, also known as King Nasur, stands as a formidable figure in the jinn underworld, ruling beneath Iblis as his minister. He is recognized as an ancient and powerful shaitan jinn, one that is not friendly towards humans, often showcasing hostility. Despite his menacing character, King Nasur is repeatedly summoned by the Arabic sorcerers, who seek to harness his immense power to assist them in their varied endeavors. Recognized as a master of magical crafts, his abilities are manifold and potent. He helps to dominate and defeat enemies, wreaking havoc in the lives of his targets. He can cause turmoil and destruction, yet on the other side of the coin, he has the power to bring prosperity and material abundance. His abilities also extend to the realm of love, where he can coerce love and influence the mind of people. It should be noted that his power and assistance requires high respect towards him for he will not tolerate frivolous attitude.
Unearth the powers of an ancient entity: Connected with the underworld jinn Malik Al-Nasur, this unique Jinn ring opens a portal to the mystical realm of the great powerful being.
Considered an age-old jinn, Malik Al-Nasur is reputed as a master of magical crafts. Tap into his immense knowledge and hone your understanding of occult practices with this sacred artifact.
Unleash the potential of life transformation: Harness the inherent potential of the Jinn Ring to create drastic shifts in your life. Be it conquering enemies, attracting well-being, or having success in love.
Commander of supremacy: The underworld Jinn King Nasur commands the power to dominate, vanquish foes, and emerge victorious in every battle of life. He owns the ultimate power of dominance and can helpt to have great authority in the human realm.
This Jinn Ring is not just a piece of exquisite jewelry; it is a mystical talisman embodying great spiritual magic. It comes with a talismanic box inlaid with bone and inscribed with magical symbols.
The powers within this magical item are not to be played with and certainly not to be taken lightly. This ring is an extremely rare and powerful talisman that is recommended only for the experienced magicians or practicians of the occult and not for the weak at heart.
Click on the pictures above to see the pictures in full-size*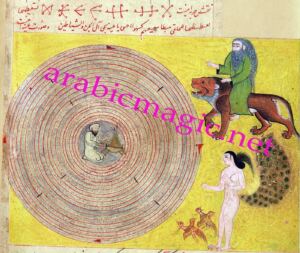 SOLD
The magical talismans and amulets that we offer are not commercial products but are entirely handmade charged with the correct Arabic rituals under strict control for performing all necessary requirements and favorable time for their creation. To order, please use the email below: [email protected]