Deer's Skin Handwritten Talisman Taweez of Surah YaSin
According to the Middle Eastern sorcerers the deerskin is known to be the best medium for writing magical talismans and amulets. This unique talisman is made from deerskin and contains the written Surah YaSin and sacred formulas.
Quran is the best Marvel and blessing of the Divine which were bestowed upon humankind. Some special Surahs hold recompense superior as compared to others. Surah Yasin is amongst the most revered Surah of the Holy Quran, and it is called "The Heart of Quran".
It has countless benefits and properties:
– Fulfilling all needs in life without any difficulty.
– Divine's blessings and forgiveness for one's sins
– Protection from evil and enemies of all kind
– Reversal of black magic and evil eye
– Well-being and material abundance
– Success in all endeavors
– Spiritual guidance

This item is highly recommended for people requiring assistance in personal affairs, business, trade, work, love, studying. Also very good for universal protection against any evil, and various kinds of dangers. It is infused with spiritual energy and is ready to be used.
The talisman can be hung on the wall in your home or working space so that it will attract extreme positive energy and blessings.
The approx. size of this talisman is 70×50 cm
This talisman is entirely handmade and calligraphed. The time for its manufacture and magical charging took 3 months. The leather is anointed with natural Deer Musk oil.
Click on the pictures above to see the pictures in full-size*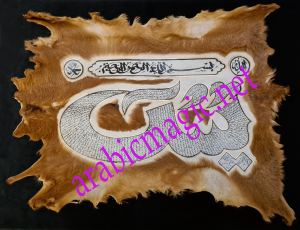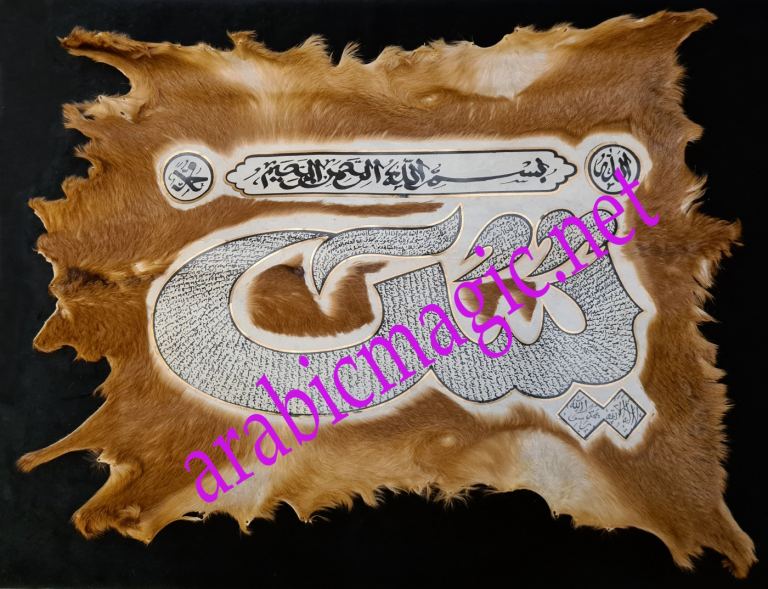 Please note that this is an antique talisman. Most of our talismans and amulets in this category are from before 1940. Some of the talismans are silver, others are silver-plated or gilded. All are handmade and unique. The natural traces of time are seen on them. Many of them, we restored, reconstructed, and strengthened with the help of additional magical rituals to increase their effectiveness and power. Others are presented in their original form. We do NOT use methods for artificial aging and deterioration of our talismans!
SOLD
Unique piece, which is not going to be replicated.
The magical talismans and amulets that we offer are not commercial products but are entirely handmade charged with the correct Arabic rituals under strict control for performing all necessary requirements and favorable time for their creation. To order, please use the email below: [email protected]