Arabic Talisman of the Khodam Harun Al-Suljan for Improving Well-Being and Prosperity
This magical pendant with a special talismanic box is related to the khodam Harun Al-Suljan who is a servant of the Divine name Razzaq (The Provider). It is charged with hundreds of repetitions of the Divine name as well as powerful invocations for attracting well-being and prosperity. It is consecrated with strong magical power to improve one's financial situation. This powerful talisman will open the door to future possibilities. It is particularly useful for people who are looking for a new job, success in their business, or seeking a quick way to obtain a promotion or salary increase. The specialty of the khodam Harun Al-Suljan is to bring wealth and abundance and to remove obstacles that prevent you to be prosperous.
Click on the pictures above to see the pictures in full-size*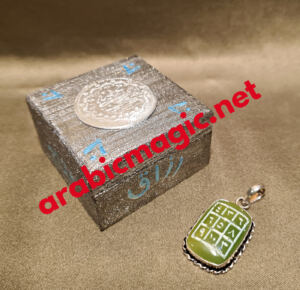 Unique piece, which is not going to be replicated.
SOLD
The magical talismans and amulets that we offer are not commercial products but are entirely handmade charged with the correct Arabic rituals under strict control for performing all necessary requirements and favorable time for their creation. To order, please use the email below: [email protected]